Interested in finding out the 2021 Arnold Classic line up?
If so, there's some great news for you. The lineup has been announced and it is supposed to be a great one.
This year the world will witness 12 absolutely unparalleled bodybuilders compete for the tile and 2022 Mr.Olympia qualification in Columbus.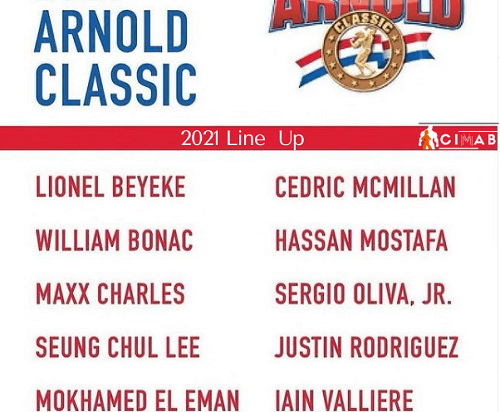 No bodybuilding season can ever be complete without the Arnold Classic. This is why fans around the world are elated to know that this year's edition is going to be held on 25th September 2021 in Columbus, Ohio.
Now that we know when will the event be held, let's move on to the second question, which is – who will be in it?
To know that, we first need to understand the sole three ways to compete in the glorious bodybuilding contest, Arnold Classic:
Mr.Olympia winners automatically become eligible to enter any contest of their choice, inclusive of the Arnold Classic and Olympia contests.
Past Arnold Classic winners, too, become eligible to enter any Arnold Classic tournament.
The third way is through an invitation from the Arnold Sports Festival officials. Competitors are required to apply and after scrutiny, the organization selects the best possible candidates who are informed of their selection at least four months in advance so that they have enough time to get in form to beat other competitors.
The line-up for the 2021 Arnold Classic
Listed below are the big names of the current bodybuilding scene that are going to flex their muscles for the much-coveted title of the Arnold Classic. The winner, as stated above, gets a ticket to Mr. Olympia.
Lionel Beyeke
William Bonac
Maxx Charles
Seung Chul Lee
Mohammad El Eman
Steve Kuclo
Cedric McMillan
Hassan Mostafa
Sergio Olivia Jr.
Justin Rodriguez
Lian Valliere
Akim Williams
Past AC Champions In the 2021 Lineup
Among the twelve men competing for the 2021 Arnold Classic title, merely two have won this show.
This clearly puts them in a better position as compared to other competitors.
William Bonac
Bonac won this very show in the years 2018 and 2020. He carries the distinction of being the only contestant who has won this title more than once. Though he was placed fifth at the 2020 Mr.Olympia contest, his chances are still high due to his successful record in recent years. Not to mention, the experience of being on stage and performing there, would come in really handy.
It's worth mentioning here that he was in his best form in 2020 and if he remains the same this year, it would not be easy for other competitors to beat him!
Cedric McMillan
This year's line-up includes another champion, Cedric McMillan. He is the winner of 2017 and his interview with Arnold Schwarzenegger after his win is clearly etched in the memory of his fans and well-wishers throughout the world. It must be mentioned here that his full and round physique was quite distinct and made him look better than other competitors, giving him an edge in the competition.
But I guess, he would need to get back in the same form with better size if he has to to better his performance in the 2020 edition where he was placed sixth.
Other Top Contenders
Here are our top men who primed to secure the 2021 Arnold Classic Trophy and simultaneously, the 2022 Olympia qualification spot.
Steve Kuclo
Steve, nicknamed, "Kingsnake" came fourth in the 2020 edition. It is important worth noting that it was his best performance to date in Arnold Classic.
He has a stunning torso and his presentation is remarkable.
Having said that, if he really wants to win the coveted Arnold Classic title then he should try to aim for his best performance ever. Ohio is not going to be easy for anyone!
Sergio Oliva Jr.
Sergio Oliva is one of the topmost bodybuilders of all time and his son Segio Oliva Jr, is determined to leave his mark in the world of bodybuilding. In the 2020 edition, he placed fifth and also got the Best Poser award.
Furthermore, it is known that right now he is the biggest that he has ever been with his preparation for the coveted title being in full swing. It's worth noting that he desired to compete at the Chicago Pro but then decided to skip the competition and focus on the Arnold Classic.
Lain Valliere
The Canadian competitor will be a debutant at the Arnold Classic. He placed seventh at Mr.Olympia in December 2020. His last notable win was the New York Pro in 2020. He is one of the bigger competitors in the lineup and is expected to tip the scales in between 270 to 280 pounds.
Akim Williams
Williams is one of those guys who put in a lot of effort to get the desired results. Even though he took a lot of time getting into the form, it was worth the effort with him looking his best and being placed sixth at the Olympia. Currently, he sports a muscle-packed frame but he needs somewhat better conditioning if he wants to hit the first spot at the Arnold Classic.
2021 Olympia Qualifying Shows
To qualify for the 2021 Mr.Olympia, the cut-off date announced is 12th September 2021. However, there still remain six shows where athletes can enter for the Olympia, and there is a possibility that audiences may see any of these competitors enter these shows leading up to Columbus.
Puerto Rico Open(June 26-27, Nassau, Bahamas)
Mr. Big Evolution (July 16-18, Estoril, Portugal)
Chicago Pro(July 23-24, Atlanta, GA)
Tampa Pro(August 6-7, Tampa, Florida)
Texas Pro(August 13-14, Irving, Texas)
Europa Pro(August 15, Spain)
The 2021 Olympia will be held from October 7-10 in Orlando, Florida. There, many athletes will compete with Mamdouh Elssbiay or The Big Rammy, the returning champion, to seek the honor of securing the biggest bodybuilding title. I must say that it's not going to be easy for anyone and it's only with time that we'll come to know who the winner is!