Terry Crews needs no introduction. It's up there as one of the most recognizable names in Hollywood. He has hosted multiple tv shows and even went on to represent a few football teams in the NFL where he played as a defensive end and linebacker. However, he is particularly known for his abs. Since you are reading this article, I am safely presuming that you are also seeking clarification to the question – Is Terry Crews on Steroids or Natural:
Since he is among the big guns in the fitness industry, there is much to debate on his physique. While some fans think he is natty, others believe that it's steroids that got him into such a great shape. While it's widely speculated, today, we aim to debunk all the speculations regarding Terry Crews' muscular physique, once and for all. Let's delve further without any further ado!
When Did It All Begin?
Terry Crews has faced the allegations through the course of his entire career. However, things got heated up last year recently when some of Terry's Instagram followers accused him of using steroids. One of those comments went viral where one of his followers went crazy and bashed him for taking steroids to gain his body shape. He called Terry Crews "a disgrace for the black community and a clown of the highest order". Although Terry himself replied to that very comment and claimed he never used any drugs, it still has left many of his fans in theories.
Like Terry, a lot of celebs such as Michael Clarke Duncan, Chris Hemsworth, Hugh Jackman, Zac Efron, Tom Hardy, Michael B. Jordan, etc., have been assumed of taking steroids and some of them are actually guilty of having used them. 
In this article, you can find out more about steroids vs natural bodybuilding.
What Makes People Think He's On Steroids?
If you look at Terry's pictures at the initial phase of his career when he was 17, he already had a decent muscular body for 17 years old. Since he was a football and basketball player back in those days, that seems acceptable.
Terry's Old Photos:
However, things got a little weird when a picture of 25 years old Terry Crews revolved on the internet in which he looked like an absolute pack of a mass. Within the next few days, another picture of Terry Crews set the internet ablaze and caused this whole thing.
It was a picture of the 31 years old Terry Crews in 1999 where he looked insane. His physique kind of absolutely exploded and of course, it all seemed too good to be true. His cynics accused him of using steroids the whole time. Some of the bodybuilders were also of the opinion that a natural body cannot get this saucy in such a short period.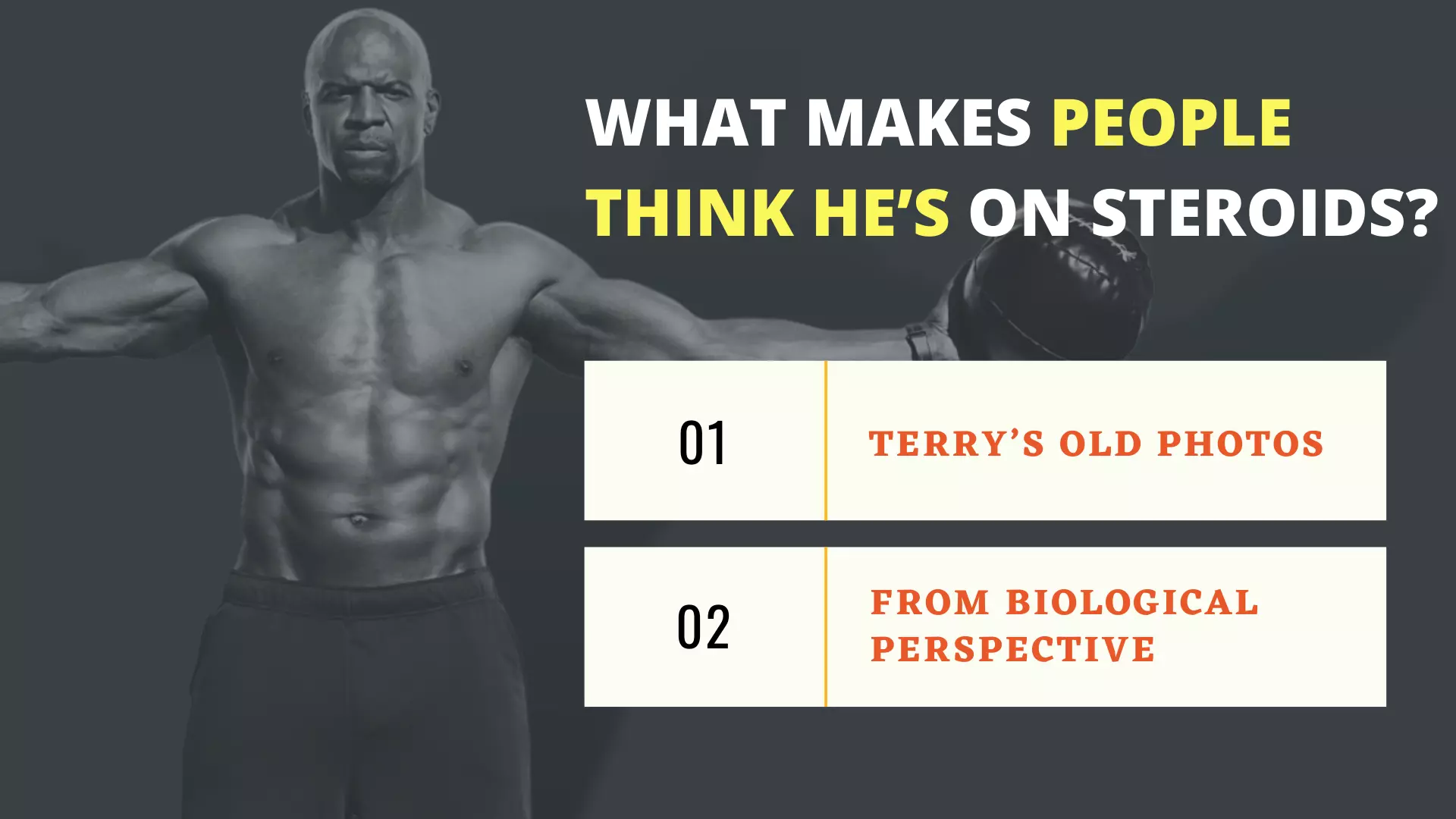 From Biological Perspective:
Health experts also seemed a bit surprised as Terry Crews couldn't develop this body even in his mid 20's when he was still playing football. These allegations make sense when you also consider that by that point, he had already been weightlifting for several years. Most of the physique improvements occur during the early years of bodybuilding. However, Terry Crews somehow managed to gain those tons of muscles after that phase. All these arguments make people believe that there is no way he could have made that sort of transformation without using steroids.
Also Read:
Is Terry Crews Natty?
Now that we have discussed why it all seems suspicious, let's discuss whether his statement of never using steroids is authentic or not.
For starters, the whole theory that Terry Crews's physique should have peaked during his football career is ridiculous. This is because while he was still playing football, all of his focus would be on his football skills rather than his physique.
Not Enough Time for Bodybuilding:
Most of the training of the football players is football-focused, and the case of Terry Crews would not have been any different. He would be doing drills to improve his agility and practicing football most of the time. Aside from that, there is cardio training, aerobic and anaerobic training, and plenty of other training as well.
Yes, there are drills to get stronger physically, but again, he didn't have much time to focus on that. Furthermore, football players get banned from using steroids. So, it would not be far from the truth to say that he wasn't working on his muscles as such.
Photo With Michael Hearn:
His picture with Michael Hearn is another reason why Terry Crews' fans believe in him. For those who don't know about Michael Hearn, he was Terry's workout fellow in his bodybuilding days. In that photo, it could be seen clearly that Michael's chest and arms are enhanced. So he might be taking steroids.
But when you look at Terry Crews, he was clearly in no comparison to Michael's body. This immense difference between their physiques signifies that Terry Crews wasn't using steroids.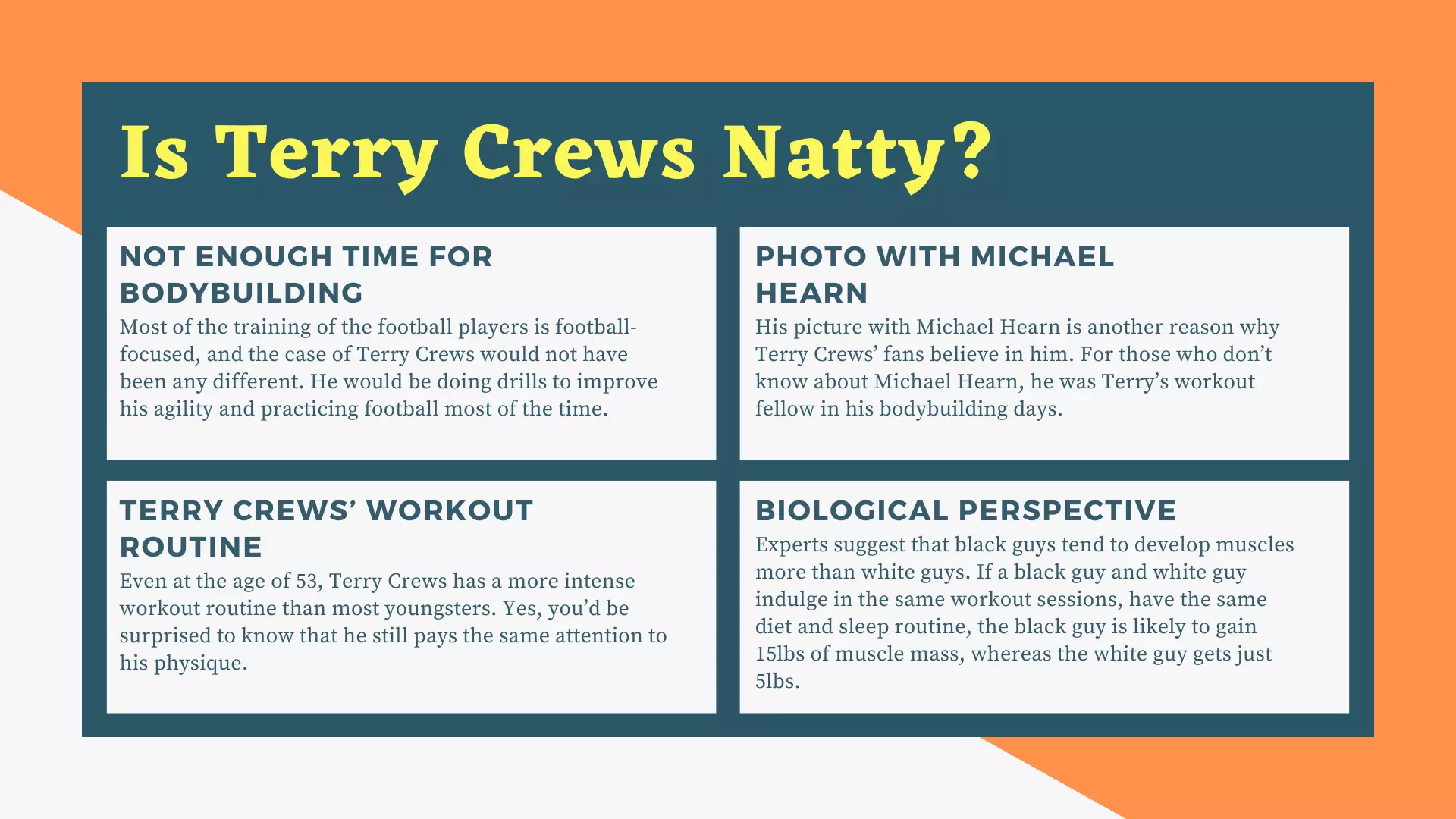 Terry Crews' Workout Routine:
Even at the age of 53, Terry Crews has a more intense workout routine than most youngsters. Yes, you'd be surprised to know that he still pays the same attention to his physique. He sprints at least 4 miles every day and does a lot of weightlifting as well. Apart from that, he still does a lot of cardio for the betterment of his heart.
Biological Perspective:
Experts suggest that black guys tend to develop muscles more than white guys. If a black guy and white guy indulge in the same workout sessions, have the same diet and sleep routine, the black guy is likely to gain 15lbs of muscle mass, whereas the white guy gets just 5lbs.
It's no secret that bodybuilders who use steroids are likely to be more vascular. Steroids thin the skin and veins become more visible. Furthermore, the skin also thins with age. Well, that's not the case with Terry Crews. Even today, he has thick skin and is certainly not as vascular as a freak who used steroids for years as supposed to be. You can compare his body side-by-side with some guy who used steroids for decades, and you'd find out that he is natty.
Verdict: Terry Crews Is NATTY!
After discussing Terry's physique and his sports career, it would be safe to say that Terry Crews is NATTY.
Reasons:
He has thick skin and veins are not visible.
His incredible workout routine.
He has it in his genes.